Vehicle Mounted Roadblock Solutions
Our Custom Fit Roadblock Solution offers a full roadblock unit that is extremely cost effective due to the fact that NO trailer is required. The Custom Fit roadblock unit is a multi-purpose solution for roadblocks, accidents, and general traffic control.

The appropriate roadblock equipment fits into a purpose built framework, which is mounted into an MPV vehicle.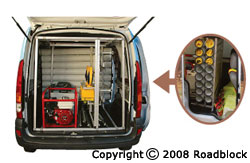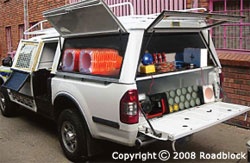 The second custom fit solution is our Purpose Built steel canopy for single or double-cab bakkies.

The main advantages of the vehicle mounted solution is that you save on the cost of a trailer but most importantly you have the equipment with you at all times.

The Roadblock Ideal for dedicated Roadblock teams and those on patrol.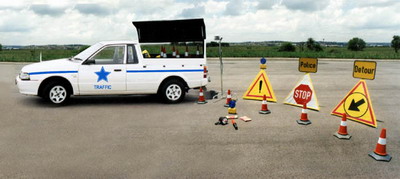 The vehicle kits come supplied with:
3-in-1 signage system
Traffic cones
Reflective vests
Maglite torches
Blue Nightflashers
Measuring Wheel
First aid kit
Floodlights
Generator