Grab and Run Kit
The Roadblock Grab-and-Run kit is our most affordable system for vehicle checkpoints, yet a very effective solution.

This vehicle check point system is contained in 4 lightweight carry bags that fit into the boot of most medium and larger sized vehicles.

Grab-and-Run kits are mainly used in urban situations on roads with a speed of up to 80km/h and used in a single direction only.

This kit will save you up to 50% of the cost of a trailer solution yet give you an effective vehicle checkpoint.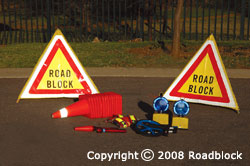 The kit comprises:

· Traffic Cones
· Lightweight 3-in-1 signage system
· Maglite torches
· Blue Nightflashers